Our Company
At GFC Financial Management we help you achieve your financial goals as well as plan for a secure retirement. As a Certified Financial Planner™ George is experienced in all disciplines of financial planning.
Retirement Planning - Helping you with your 401k/IRA Rollover along with retirement income and distribution planning
Investment Planning - Having a prudent and sound investment portfolio seeking competitive returns while managing risk
Estate Planning - Discussing with you how best to transfer your financial assets to your heirs without unnecessary costs or delays as well as advanced directives and elder-care issues
Tax Planning - Help you reduce and control taxes, keeping more of your hard-earned money
Insurance Planning - Discussing options to help minimize your costs
We will do everything in our power to help you achieve your goals and objectives. Your financial success is our business – a responsibility we take seriously.

OUR COMMITMENT TO YOU

Our Clients are our most important asset. Providing personalized attention, communication, education, and prompt service, is job #1. We are committed to providing our Clients with "Gold Medal" Services.

If you have any questions about your current financial situation or wish to schedule an appointment, please give us a call.

If you are new to us please give us a call or email for a complimentary second opinion and to learn more about what makes us different.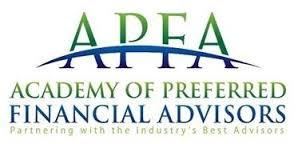 www.preferredadvisoracademy.com/investors
George F. Cerwin is a Founding Member of the Academy of Preferred Financial Advisors offering superior client services and committing to advanced financial services education.
The Academy of Preferred Financial Advisors Member is solely an indication that the financial advisor attends training provided by The Academy of Preferred Financial Advisors (APFA). Working with an advisor that is part of The Academy of Preferred Financial Advisors (APFA) cannot guarantee investment success or that financial goals will be achieved. There can be no assurance that working with a member of APFA will produce or achieve better results than working with an advisor not affiliated with The Academy of Preferred Financial Advisors. Advisors who participate in this program pay a fee to belong to the program. APFA is not affiliated with SagePoint Financial and is not sponsored or endorsed by the broker/dealer.